Stand-alone device
Eltex ACT
The ELTEX ACT (Automatic Control of Tension) is a stand-alone device. It will continuously monitor and control the yarn tension according to a reference setting tension point.
The ACT is designed to be used on for example air jet weaving machines, sewing machines and special machines like tampon making machines.
Advantages
Improves the quality of the process.
Stabilizes the tension that will otherwise vary for example because of a full, medium or nearly empty bobbin.
Works even at very low tensions, less than 10cN.
The desired tension set value is easily entered with the touch screen.
Diff­erent brake executions according to the desired tensions
Low maintenance
Plug & Play system. Each unit works independently.
No communication must be established with the machine.
Features:
The ACT monitors and regulates the yarn tension continuously.
Both the reference and real tension is displayed on the screen.
The reaction time of the system is adjustable.
An upper limit of the brake force can be set.
The ETM Solo sensor can be zero-set
Two ranges of tension available: 1 000 cN and 2 500 cN, depending on ETM Solo type.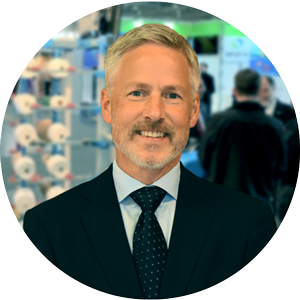 Can I help you?
Do you have a specific request or would like to know more about our sensors and the sureveil-lance system please contact me and I will sort everything out