Stand-alone device
Eltex ACT-R
The ELTEX ACT-R (Automatic Control of Tension for Rapier machines) is a stand-alone device designed to regulate the weft yarn tension to a constant and required value on a Rapier weaving machine.
It is designed to be fi­tted after the prewinder, and it can be used on any type of Rapier machine.
Advantages
Plug & Play system. Each unit works independently. No communication must be established with the weaving machine.
The ACT-R system can be used for any type of yarns. Due to the very good performance, it is especially valuable for technical fabrics.
The ACT-R system is compensating any differences in yarn tension that origins from irregularities in the yarn package.
The weft yarn tension is kept equal regardless of full, medium or nearly empty yarn package.
As the weft yarn tension does not fluctuate the quality of the produced fabric is increased.
The excellent response of the system enables to weave also dicult recycled yarns.
The smart yarn brake design results in low maintenance
The brake is very easy to clean.
If desired even only one of the weft yarns can be equipped with ACT-R.
Features:
The ACT-R automatically controls the yarn tension to the desired value. The desired tension is entered on the central unit.
Monitors the yarn tension continuously. The reference and actual tensions are displayed on the screen.
Possibility to make zero-set of the ETM Solo sensor.
Possibility to set the yarn brake in automatic or manual mode.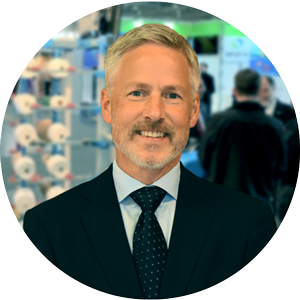 Can I help you?
Do you have a specific request or would like to know more about our sensors and the sureveil-lance system please contact me and I will sort everything out