Eltex Yarn Expert -Tufting
Yarn fault detection for tufting machines.
EYE Compact
EYE for tufting uses the Compact yarn sensors. These robust sensors are constructed in metal housings and can easily be mounted and connected with modular connectors. Up to 96 sensors can be connected to the Master control unit, and with a slave unit 96 more sensors can be connected. Because of this the EYE Compact system can meet most machine configurations, weather it's for carpet or grass tufting.
On the Operator terminal sensor parameters can be set for different groups of yarns with automatic addressing of all the system parts. All events are logged in real time which can be useful for statistics and diagnostics. This information can be networkable to a central database from an Ethernet connection on the Master control unit.
100% of Tufting Yarn Breaks / End Outs detected
Can be fitted on machines with a 1/10″ gauge
The sensors use the well proven piezoelectric principle
Faulty yarn is specifically identified, resulting in more up-time
The sensors are normally fitted between the feed rollers and the needles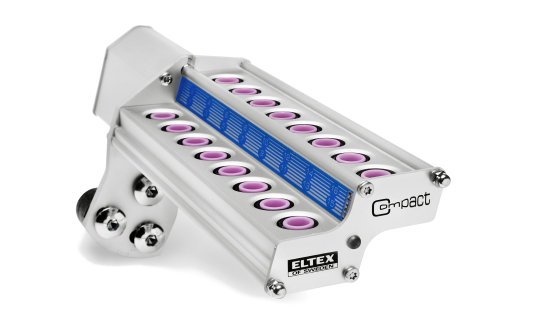 Documents
"100% detection of Tufting Yarn
Breaks and End Outs"
EYE Compact II
EYE Compact II is the latest developed sensor from Eltex of Sweden and is 1/3 in size compared to the EYE Compact. It is ideal to mount on more modern and graphics driven machines where space can be limited. It can be mounted above or beneath puller rollers and gives the operator better access around the sensors. An EYE Compact system will prove to be a good investment for tufters of carpets and grass.
EYE Compact II can be mounted above or beneath puller rollers
Eyelet diameter is 4 mm compared to 6,5 mm for Compact
100% of Tufting Yarn Breaks / End Outs detected.
Can be fitted on machines with a 1/10″ gauge
The sensors use the well proven piezoelectric principle
Faulty yarn is specifically identified, resulting in more up-time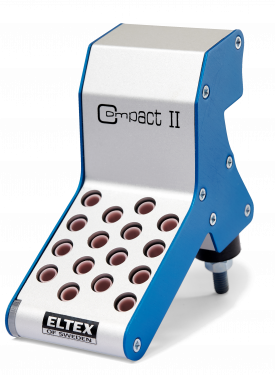 • 100% of Tufting Yarn Breaks / End Outs detected
• Faulty yarn is specificly identified, resulting in more up-time
• All events are logged in real time and can be used for statistics and diagnostics
• Networkable to a central database
• Automatic addressing of all the system parts
• Easy to change system configuration
• Fast learning of positions in use (no ON/OFF switches on the sensors)
• Simple cables with modular connectors
• Robust sensors in metal housings
• Sensor parameters can be set for different groups of yarns
• Ethernet, CAN Bus, or Modbus (available for OEM interface)
• Easy mounting of sensors