Continuous monitoring of the yarn tension.
Eltex ETM Solo
The Eltex ETM Solo is an on-line device designed for continuous monitoring of the yarn tension on textile machines. ETM Solo has Yarn motion signal output (Specific models). A separate Yarn Break Sensor is then not needed. The ETM Solo communicates via a digital bus system or an analog output. The yarn tension is measured as a force on the sensing element. The yarn angle across the element is predetermined by two ceramic guide bars. The necessary deviation is kept as small as possible. The yarn guides allow the yarn to enter and leave the unit at any angle. Fast sensor response enables monitoring of rapid changes in yarn tension. This allows it to be used, for instance, as a sensor for automatic control of yarn brakes.
Features
Monitors the yarn tension continuously
The yarn can enter and leave the sensor at any angle
Robust design
Replaceable guide eyelets
LED for status indication
Models with Yarn motion signal available
Advantages
Improves production efficiency
Improves production quality
Simplifies setting of the yarn brakes
Allows repeated style changes more efficiently and accurately
Flash memory technique – future software upgrade possible
Overload protection downwards and upwards
Easy wiring with common cables/connectors
Application examples
Weaving, warping, winding machines
Sensor for brake control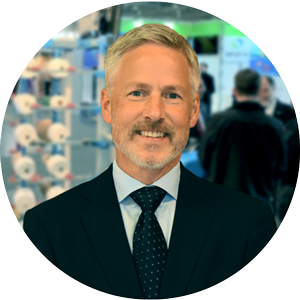 Can I help you?
Do you have a specific request or would like to know more about our sensors and the sureveil-lance system please contact me and I will sort everything out