EYE - Eltex Yarn Expert
Yarn Break Detection System.
• Depending on the number of ends there is sometimes a need for a slave unit in combination with the EYE Master Control unit. When used on creels with EYE Multi eyelet sensors only, up to 72 sensors can be used on each control unit. When using single sensors up to 96 sensors can be used on each control unit.
Further advantages:
• The stop position is shown both on the terminal and on the sensor
• Ability to show user defined yarn position ID at yarn fault
• The stop function can be set for immediate stop or after a certain number of missing yarns
• Parameters can be set for different yarn groups and can also automatically change depending on machine speed
• Automatic addressing of all the system parts
• Easy to change system configuration
• Simple connections with modular connectors
• Robust sensors in metal housings
• CAN Bus, Ethernet or Modbus (available for OEM interface)
• Software updates can be quickly and easily installed
Applications:
• Warping creels
• Winding machines
• Multiaxial warp knitting machines
• Heat set creels/winders
• Air entanglement machines
• Yarn preparation machines
• Cable machines
• General multithread applications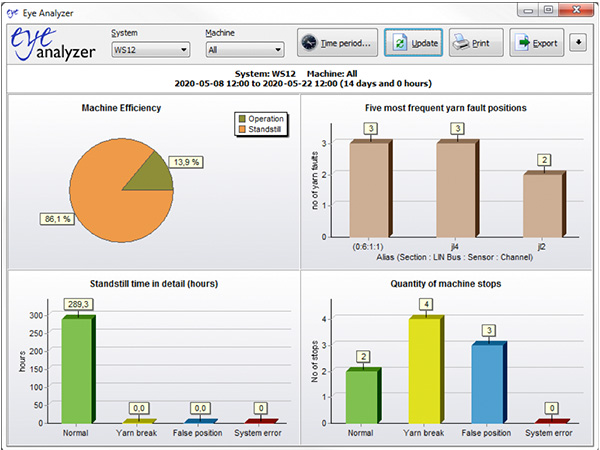 The EYE Analyzer is a powerful PC software package developed by Eltex to be used for collecting data from one or more Eltex Yarn Expert (EYE) yarn break detection systems. The data is compiled into various statistics displayed in graphs to be conveniently exported to excel or printed to PDF.
EYE Analyzer can also be configured to deliver its data directly into an existing plant monitoring software system.
Once this software is put to work the operator soon finds out what a useful tool it is for locating weak points in the process and compiling statistics that can be used for evaluation at a later point. The collected statistics can also be very useful when calculating cost efficiency.
It can be used when tufting carpets or artificial grass, on warping machines, and other applications.
What can this software do?
Machine Efficiency; the time in % of the selected time range that the selected machine(s) has been running and stopped.
Standstill time in detail; the hours the machine(s) has been standing still because of yarn break, false position stop, normal stop and stop because of a system error.
Five most frequent yarn fault positions; the five yarn positions for the selected machine(s) that have stopped the most in the selected time range. Both yarn breaks and false position stops are included in this value.
Quantity of machine stops; number of stops for the selected machine(s) and within the selected time range. Divided into four groups; normal stops, stops because of yarn break, stops because of false position and stops because of a system error.
The EYE Analyzer system
EYE Analyzer PC software from Eltex of Sweden
One or more EYE Control Units 11701, a part of the EYE yarn break detection systems manufactured by Eltex of Sweden
A PC with Windows operating system
A standard Ethernet network with TCP/IP
Connecting PC to EYE control units
A standard Ethernet network is used to connect the PC to the EYE control units. Both a multipoint network and a point to point network with a crossed cable can be used.
The network protocol is TCP/IPv4.